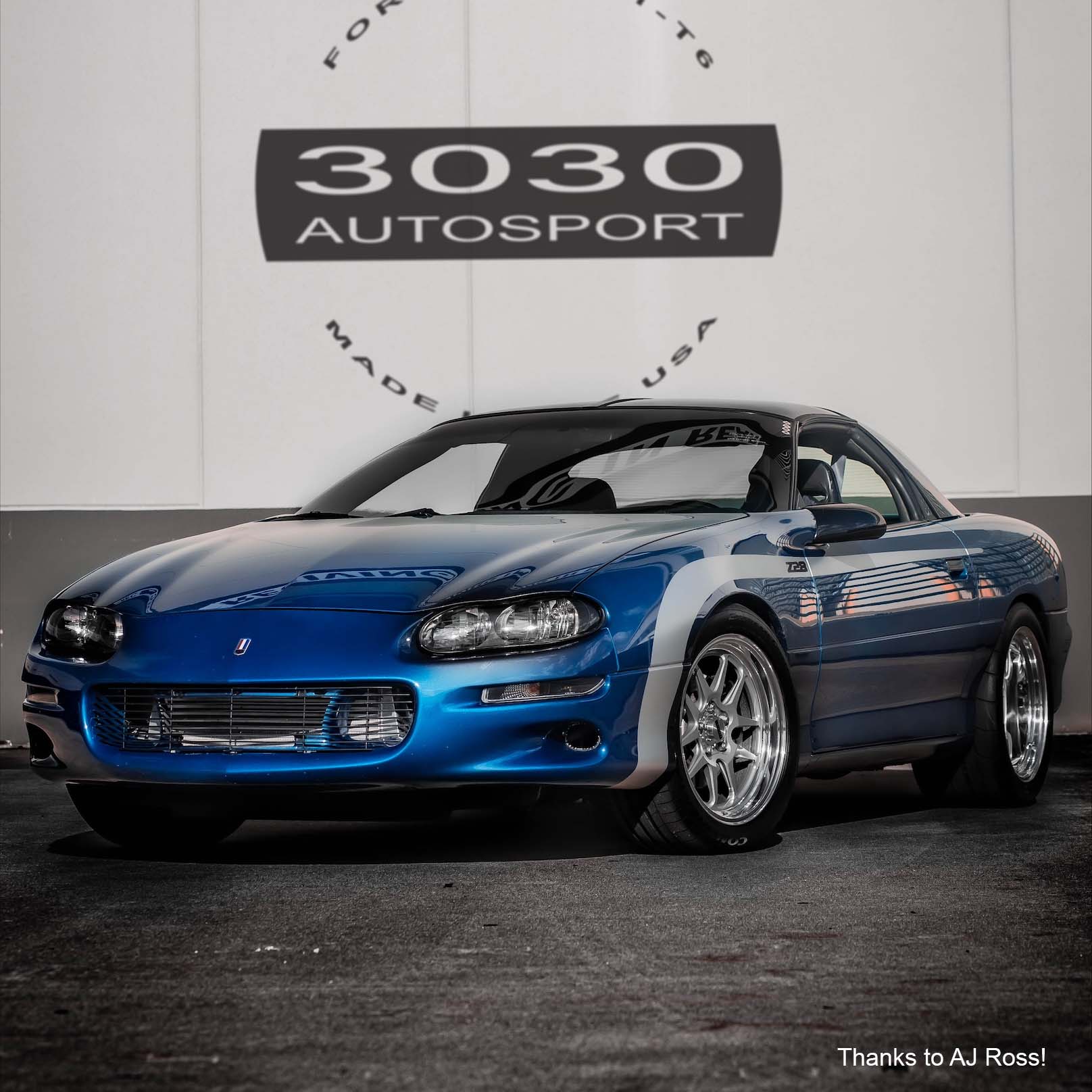 If you're serious about racing -be it drag racing or pro-touring, you need actual performance wheels. That's where 3030 Autosport comes in with our line of forged aluminum wheels designed for severe track duty and unbeatable street performance.
Our Drag Ops series is perfect for those who want to dominate the drag strip. These wheels are designed with a focus on weight reduction, with a strength-to-weight ratio that's unmatched by any other wheel on the market. The result is a wheel that's both lightweight and incredibly strong, giving you the edge you need for the win light.
For those who prefer autocross and road racing, we offer the Series G and MOD3 Series wheels. These wheels are designed for minimum deflection for maximum conrol and handling, giving you the confidence you need to push your Camaro to the limit. With our rigorous testing process, you can be sure that these wheels will perform flawlessly, no matter how hard you push them.
If you're looking to restore a classic Camaro and want to give it a modern twist, our Series X wheels are the perfect choice. These wheels combine timeless styling with modern materials and construction techniques. The result is a wheel that looks great on any classic Camaro, while also providing unbeatable performance.
All of our forged performance wheels are designed and manufactured to the highest standards, with a focus on quality and performance. We use only the finest materials and employ the latest manufacturing techniques to ensure that our wheels are the best on the market. When you choose 3030 Autosport, you're getting a product that's built to last, and one that's designed to give you an edge over the competition.
In conclusion, if you're serious about performance and want the best possible wheels for your 4th Gen Camaro, look no further than 3030 Autosport. With our Drag Ops, Series G, MOD3 Series, and Series X wheels, you'll be able to dominate the track and turn heads wherever you go.
Chevrolet 1993-2002 Camaro [4th Gen] - Stock Chassis and Brakes
Front / Rear
Size
Backspace
Bolt Pattern
Stock Caliper Clearance
3030 Series
Front
15x4
1.75
5x4.75
0.75"
Drag Ops
May require racing brakes
Rear
15x10XBC
5.5
5x4.75
0.75"
Drag Ops XBC
Must use 15x10XBC Profile
Front
17x4.5
2.2
5x4.75
1.00"
Series G
Front
17x7
4.375
5x4.75
1.00"
Series G
Front
17x8
5.375
5x4.75
1.00"
Series G
Rear
17x8
5.375
5x4.75
0.75"
Series G
Rear
17x9
6.375
5x4.75
0.75"
Series G
Rear
17x9.5
7.25
5x4.5
0.75"
Series G
Front
18x5
2.75
5x4.75
1.00"
Series G, Series X & MOD3
Front
18x7
4.375
5x4.75
1.00"
Series G, Series X & MOD3
Front
18x8
5.375
5x4.75
1.00"
Series G, Series X & MOD3
Rear
18x8
5.375
5x4.75
0.75"
Series G, Series X & MOD3
Front
Rear
18x9
6.375
5x4.75
0.75"
Series G, Series X & MOD3
Rear
18x9.5
7
5x4.75
0.75"
Series G, Series X & MOD3
Front
19x8
5.375
5x4.75
1.00"
Series X, MOD3
Rear
19x8
5.375
5x4.75
0.75"
Series X, MOD3
Front
19x9
6.375
5x4.75
1.00"
Series X, MOD3
Rear
19x9
6.375
5x4.75
0.75"
Series X, MOD3
Rear
19x10
7
5x4.75
0.75"
Series X, MOD3
Front
20x8
5.375
5x4.75
1.00"
Series G, Series X & MOD3
Rear
20x8
5.375
5x4.75
0.75"
Series G, Series X & MOD3
Rear
20x9
6.25
5x4.75
0.75"
Series G, Series X & MOD3
Rear
20x10
7
5x4.75
0.75"
Series G, Series X & MOD3